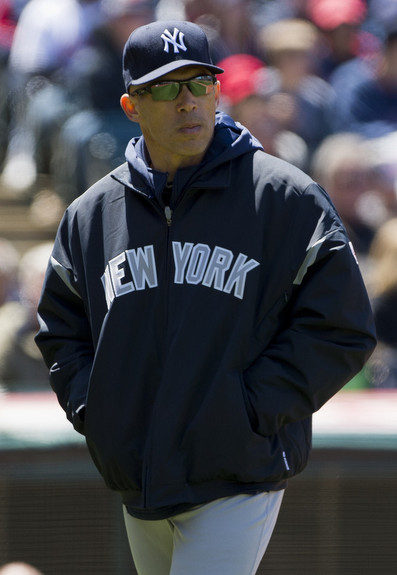 Even before last night's come-from-behind extra-innings win over the Orioles, it was obvious the Yankees are far exceeding expectations this year. The injuries piled up during the offseason and in Spring Training, leading to a bunch of scrap heap pickups forced into everyday roles come Opening Day. Lyle Overbay? Vernon Wells? Frankie Cervelli? This guys had no business starting the season assured of regular playing time for a team with World Series aspirations.
The Yankees were widely picked to collapse completely and perhaps finish last, the kind of collapse that has been predicted every year since about 2007. Instead, they've thrived and currently sit atop the AL East with a little less than three-quarters of the season remaining. Yes, there is very long way to go, but New York has fared far better than even the most optimistic of fans could have expected. When Opening Day rolled around, I remember the mantra was "tread water until the injured guys return." Expectations were definitely lower.
Thanks to the team's better-than-expected performance, Joe Girardi has started to get some super early Manager of the Year love. My CBS colleague Dayn Perry recently dubbed him the 25% AL Manager of the Year — basically the MoY to date — for example. The Manager of the Year Award has morphed into the "Manager Of The Team Who Most Exceeds Expectations" Award in recent years, and Girardi definitely fits that bill right now. Some late-season ridiculousness — just ask 2012 Bob Melvin and 2011 Joe Maddon — would help his cause too, but I'm hoping for a less stressful finish to the season.
Looking around the rest of the league, the only other early-season AL MoY candidates are Terry Francona and John Farrell. Both the Indians and Red Sox are exceeding expectations so far, but both teams did make splashy offseason moves. Were expectations lower in Cleveland and Boston than they were in New York coming into the season? I'm not sure, but those two deserve the same kind of early MoY attention as Girardi. The next 120 or so games will sort this out, and some new candidates will inevitably emerge.
It's obvious these days that a Yankee needs to have an outrageous season to win any kind of major award, like a 2007 Alex Rodriguez season. Without that big gap in performance, the other guy always seems to get the benefit of the doubt. That might work against Girardi because the Yankees still have the largest payroll in baseball and hey, they should be able to plug their holes on short-notice. Not every team can absorb $13M of Wells' salary at a moment's notice. That mentality exists and it could come into play.
Only two Yankees managers have won the award since it was first handed out in 1983 — Joe Torre in 1996 and 1998, and Buck Showalter during the strike-shortened 1994 campaign. That's all. Girardi has already been named MoY once before, taking home the award during his lone season with the Marlins in 2006, but that shouldn't matter. I've never been an ardent Girardi supporter, but he's done one hell of a job keeping this ship afloat through the injuries. If there was ever a time a Yankees manager deserved the Manager of the Year Award, this is it.