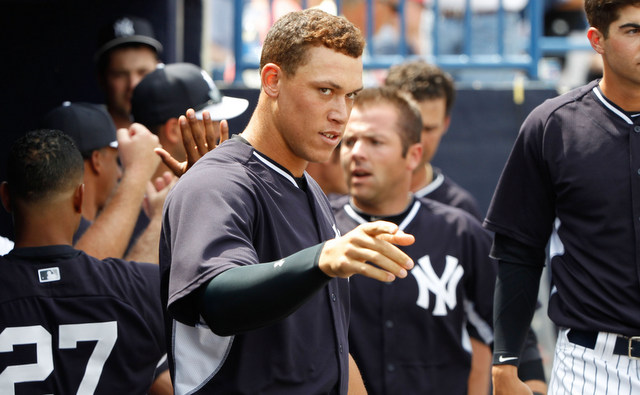 One of our long-running features here at RAB is the annual Prospect Watch, where we pick a prospect, then keep track of his progress throughout the season in the sidebar. Some say the Prospect Watch is a curse, I say the Yankees aren't particularly good at player development. RAB's pixels don't influence career paths.
We've been running the Prospect Watch so long now that I'm starting to forget who has been featured. I know it all started with Phil Hughes, and last year we had Eric Jagielo, but I can't remember all the names between those two. Jesus Montero and Mason Williams for sure, and I think Manny Banuelos as well. The Andrew Brackman Watch sounds like it was once a thing too.
Anyway, with the minor league season set to start on Thursday, it's time to vote on this year's Prospect Watch prospect. In the past I made an executive decision and picked my favorite prospect, but the last few years I've opened it up to a reader poll, and that seems better. It's worked well so why stop? I do still get to pick the candidates, however. Here are the six players up for this summer's Prospect Watch, listed alphabetically.
1B Greg Bird (No. 5 on my Top 30 Prospects)
Brian Cashman called Bird "by far the hitter" in the farm system a few weeks ago and the numbers back it up. The 22-year-old Bird followed up his dominant 2013 season (170 wRC+ in Low-A) by hitting .271/.376/.472 (139 wRC+) with 30 doubles, 14 homers, 14.3 BB%, and 22.2 K% in 102 games split between High-A Tampa and Double-A Trenton in 2014. Then he hit .313/.381/.556 (156 wRC+) with six homers in the Arizona Fall League and was named MVP. Then he hit .353/.421/.706 with three doubles and a homer during Grapefruit League play. All Bird does is hit. He'll start the season back with Double-A Trenton.
OF Aaron Judge (No. 1)
Judge, 22, was the second of the team's three first round picks in 2013, but he couldn't make his pro debut until 2014 due to a quad injury. Judge proceeded to hit .308/.419/.486 (158 wRC+) with 24 homers, 17 doubles, 15.8 BB%, and 23.3 K% in 131 games across two Single-A levels last season. He showed a more advanced hit tool and approach than even the Yankees expected when they drafted him. Like Bird, Judge is ticketed for Double-A Trenton this month.
SS Jorge Mateo (No. 8)
Mateo is the new hotness. The 19-year-old is the fast riser everyone is touting as the next great Yankees prospect. A wrist injury limited him to only 15 rookie ball games last year (119 wRC+) but that isn't enough to stop the team from sending him to Low-A Charleston this year. Mateo has elite speed, solid contact skills and patience, and surprising pop. He's not going to hit a ton of homers, but he will steal a boatload of bases and could hit for a sky high average.
C Gary Sanchez (No. 3)
It seems like Sanchez is the black sheep of top Yankees prospects. He's been around for a while and people are bored of him. And yet, Sanchez is a month younger than Bird, seven months younger than Judge, and he put up a .270/.338/.406 (108 wRC+) batting line with 19 doubles, 13 homers, 9.0 BB%, and 19.1 K% as a full-time catcher in a full season at Double-A last year. The Yankees are sending Sanchez back to Trenton this summer, where he will still be two years young for the level.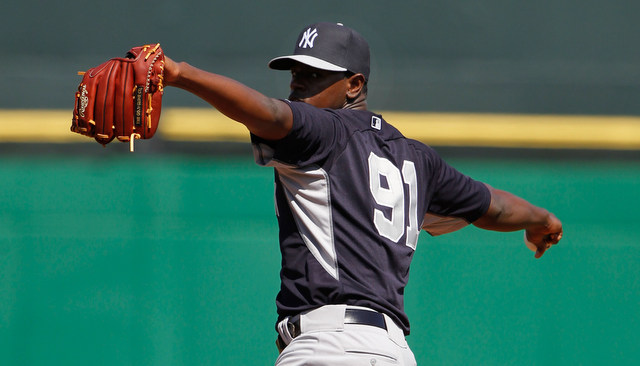 RHP Luis Severino (No. 2)
The Yankees have a very position player farm system, so the 21-year-old Severino is only pitcher in this post. He had an absurd 2014 season, pitching to a 2.46 ERA (2.40 FIP) with 27.8 K% and 5.9 BB% in 113.1 innings while jumping from Low-A Charleston to High-A Tampa to Double-A Trenton. Severino had the lowest FIP among the 551 minor league pitchers to throw at least 100 innings last summer. He was that good. The Yankees will have Severino start this season back in Trenton, but don't expect him to be there long.
2B Rob Refsnyder (No. 13)
Since being the team's fifth round pick in 2012, Refsnyder's done nothing but hit. The 24-year-old has put up a .307/.400/.457 (145 wRC+) line with 70 doubles, 20 homers, 12.1 BB%, and 16.1 K% in 267 games at four minor league levels since the start of 2013. His worst performance at an individual level is the .300/.389/.456 (137 wRC+) batting line he put up in 77 games with the RailRiders last year. Refsnyder will go back to Triple-A to start the season but will surely make his MLB debut at some point this year, likely once he learns to play passable defense.
* * *
If you were hoping to vote for someone like LHP Ian Clarkin or 3B Miguel Andujar, sorry. Their time will come. I focused on players capable of putting up big numbers this year because hey, everyone wants to follow a prospect who's dominating, right? The guys just holding their own are boring. To the poll.
Who should be the 2015 Prospect Watch?