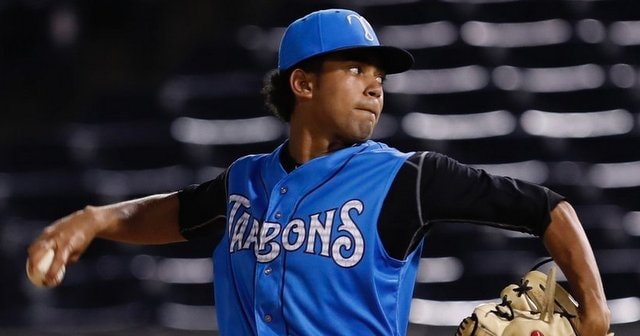 Deivi Garcia | RHP
Background
The 19-year-old Garcia grew up in Bonoa, Dominican Republic, which has produced its fair share of big leaguers, most notably Juan Cruz, Carlos Marmol, Adalberto Mejia, and Joel Peralta. Neither MLB.com nor Baseball America (subs. req'd) ranked Garcia as one of the top 30 prospects for the 2015-16 international signing period.
The Yankees were in the penalty phase for their 2014-15 international spending spree at the time, meaning their signing bonuses were capped at $300,000. Garcia received a $200,000 bonus. As best I can tell, that is the third largest bonus the Yankees handed out during the 2015-16 signing period, behind shortstop Jesus Bastidas ($300,000) and righty Luis Medina ($280,000).
Pro Career
Like most international signees, Garcia made his pro debut in the Dominican Summer League. He made 12 starts and threw 48.1 innings with a 2.61 ERA (3.22 FIP) for the DSL2 squad in 2016. (The Yankees had two DSL affiliates, DSL1 and DSL2, up until two years ago. Now they have one.) Garcia posted a 31.6% strikeout rate and a 16.6% walk rate in those 48.1 innings.
The Yankees had Garcia begin the 2017 season back in the DSL, but, after three starts, they brought him to the United States. Garcia made four appearances and threw 16.2 innings in the rookie Gulf Coast League before being moved up to rookie Pulaski, where he made six starts and threw 28 innings. He pitched well at all three levels and finished with a 3.30 ERA (3.44 FIP) and strong strikeout (36.6%) and walk (8.8%) rates in 60 total innings in 2017.
Garcia started last season in Extended Spring Training and finished it in Double-A. He made his official game season debut in a June 5th spot start for High-A Tampa. Garcia was then moved down to Low-A Charleston, where he made eight starts, before moving back up to High-A Tampa. He made four starts with Tampa and closed the season with a spot start with Double-A Trenton. His level-by-level numbers:
| | G | IP | ERA | FIP | K% | BB% | GB% | HR/9 | Whiff% |
| --- | --- | --- | --- | --- | --- | --- | --- | --- | --- |
| Low-A Charleston | 8 | 40.2 | 3.76 | 3.15 | 37.1% | 5.9% | 25.9% | 1.11 | 16.1% |
| High-A Tampa | 5 | 28.1 | 1.26 | 1.96 | 32.1% | 7.3% | 35.9% | 0.00 | 12.0% |
| Double-A Trenton | 1 | 5 | 0.00 | 1.73 | 41.2% | 11.8% | 37.5% | 0.00 | 14.3% |
| Total | 14 | 74 | 2.55 | 2.60 | 35.5% | 6.8% | 30.6% | 0.61 | 14.5% |
Nine-hundred-and-two pitchers threw at least 70 innings in the minors in 2018. Among those 902 pitchers, Garcia had the fifth highest strikeout rate (35.5%) and the fourth highest K-BB% rate (28.7%). Both marks were the best among teenagers. (The next best rates among teenagers were 31.2 K% and 26.9 K-BB% by separate pitchers.)
Scouting Report
Two things immediately stand out about Garcia. The first is his size. He's listed at 5-foot-10 and 163 lbs., and that's after bulking up from his listed 145 lbs. when he signed. Garcia is quite diminutive, and his low ground ball rate indicates he's had trouble generating downward plane on his fastball because of his size. That's a physical limitation thing. Not a "it'll get better with experience" thing.
The second thing that stands out is his raw stuff. Garcia's arsenal is headlined by a hammer curveball in the upper-70s/low-80s. Both the curveball and his low-to-mid-90s fastball generate very high spin rates, with reports indicating the curveball has been clocked at north of 3,000 rpm. That's elite curveball spin even for big leaguers. Garcia made real strides with his changeup last season and it's now a third reliable pitch.
There is still some effort in Garcia's delivery but not as much as there was two years ago. As a result, he's improved his strike-throwing ability, though there are still times he can't harness his stuff and the ball winds up all over the place. Garcia does need to improve his command overall. He can get the ball over the plate, for the most part. Pitching to the edges rather than the middle of the plate is the next development goal.
Fairly or unfairly, Garcia's durability and his ability to start will always be in question because of his size. Only 13 right-handers standing no taller than 5-foot-10 have accumulated at least +10 WAR over the last 50 years. Garcia has been completely healthy as a pro to date, and hey, he is still only 19, so a growth spurt could still be coming. (If it does, it stands to reason he'll add velocity.) Right now, his size is a potential obstacle to long-term MLB success. That's what history suggests.
2019 Outlook
I know Garcia made that one Double-A spot start last season — he would've started Game Five of Trenton's first round postseason series had they not been swept in the best-of-five series — but he's almost certainly going to return to High-A Tampa to begin 2019. For starters, he made only five starts at that level last year. Five dominant starts, but still only five starts. Garcia still has things to learn at that level. Almost no one masters it that quickly, especially not a teenager.
And secondly, Garcia is still only 19. He won't turn 20 until mid-May. Only two 19-year-old pitchers (Padres lefty Adrian Morejon and Braves lefty Ian Anderson) were on High Class-A Opening Day rosters last year, so Garcia very well might be the youngest pitcher in the Florida State League when the regular season begins. Keeping him in Tampa at least until the weather warms up in Trenton strikes me as the obvious move. I expect Garcia to return to Double-A at some point this summer and, if he continues pitching this well, a late season cameo with Triple-A Scranton could be in the cards.
My Take
Big Garcia fan. His size does make me skeptical about his ability to start long-term — Garcia would buck a lot of history if he's able to do it — but, if he has to settle for a bullpen role, his fastball/curveball combination figures to make him a true high-leverage option for the late-innings. Either way, his newfound strike-throwing ability is awfully exciting. I didn't think his control would improve that quickly. If Garcia can remain a starter, great. If he has to move to the bullpen, so be it. There's no shame in that nowadays. (Part of me can't help but wonder if he's trade bait because the Yankees may be worried about his size.)