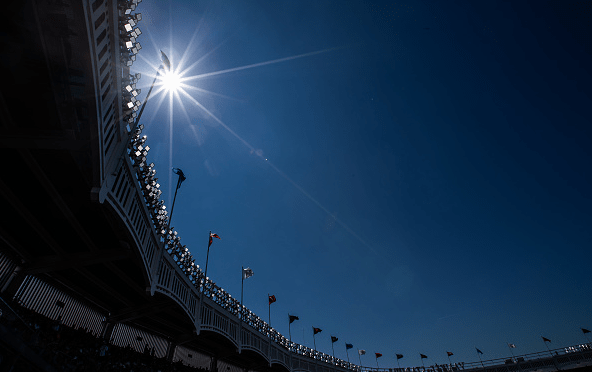 A lifetime ago, Joe and I were in charge of the Yankees site for the Most Valuable Network, a long-defunct sports blog network, when we decided we could do a better job on our own. We wanted Minor League content too and invited Mike along for the ride. We felt we could provide comprehensive Yankee coverage from a fan perspective and do a better job than anyone else out there. It was typical early 20s hubris from a bunch of kids with internet hookups, and somehow it all worked out.
Twelve years and over 28,000 posts later, we decided it was time to say good bye, but quitting is never easy. Beyond the ins and outs of the Yanks' rocky 2010s, we've all been through a lot together – job changes, career changes, grad school, weddings, births. We started out as business partners and became fast friends, adding Jay a few years in to keep everything humming smoothly.
At some point, though, over the years for each of us, what started as a passion project becomes less fun and more of a burden. I couldn't keep up with posting after law school ended and my current career began. Joe's writing slowed down with the birth of his daughter. Mike, our Energizer bunny, kept going and going and going, but when a passion project isn't a passion any longer, it's time to hang up. We still love the Yanks, warts, frustrations, injuries and all; it's just time to love the Yankees as fans again.
It's a trite cliche to quote Bob Dylan's "My Back Pages" in a farewell piece, but after 12 seasons, I think about Dylan's lyrics a lot. Back in 2006 when the idea for RAB came together, I was so much older then. We're all younger than that now. When we started RAB, the general tenor of online baseball writing focused around doing a better job. We all thought we could do a better job than our favorite team's GM. We thought we could out-manage our favorite team's manager. We thought we could out-coach our favorite's team's coach.
RAB came of age at a time when the volume of data about baseball was readily available and increasing dramatically. The statistical understanding of the game shifted from Bill James' printed books to Baseball Prospectus' annuals to daily WAR updates to wRC+ in the span of a barely a decade. With it, came a different approach to team-building that turned everyone into Moneyball accolades and led everyone to propose a budgetary-constrained approach to baseball team-building. As more online analysts were hired by teams, that approach shifted from the Internet to the game before we knew it, and now teams are underpaying players while the game is based more on an all-or-nothing understanding underpinned by batted ball profiles more than anything else.
This is not to say that River Ave. Blues was instrumental in changing the game of baseball any more or less than any other site, but as I reflect back on the past 12 seasons, I see shifts in the way baseball works that grew out of the idea that a bunch of kids knew more than anyone else. Today, I can see how baseball writers helped drive a hidden search for value, how we all helped shift understanding of the game, and how we had a role, even if slight, in whatever labor battles loom. I wouldn't change RAB's approach over the last 12 seasons for the world, but if we all knew then what we knew now, many of us would think twice about that Moneyball approach (and we sure as hell would've traded the Big Three).
As RAB comes to a close, I think about the friends we made along the way, the baseball friends I chat with every day on Twitter and the ones I see in real life. I think about the playoff games at Bleecker Heights Tavern, a World Series championship at Blondies, and I think about the babies born, the weddings, the parties, the games in the Bronx. I think about the fans and readers who have written to us lately talking about how we expanded their baseball horizons and their love and appreciate for the game. And I think about how we did it. Joe, Mike, Jay and I set out to build a better baseball blog, and we accidentally stumbled into a community of great people, lifelong friends and some amazing Yankee fans. I wouldn't trade the world for it. Thanks for coming along for the ride. And as we go gently into that good night, just remember the 2-2 pitch to Tino was a ball and no, I'm still not going to eat the hat.