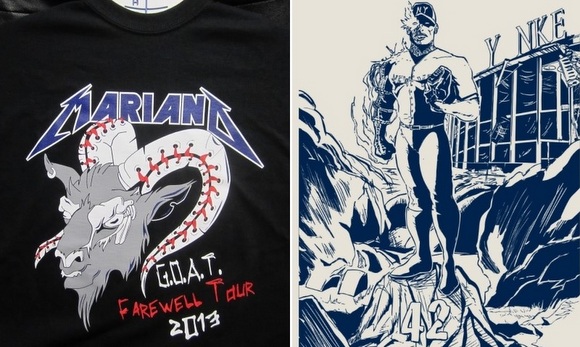 In honor of Mariano Rivera's final weeks with the Yankees, we've teamed up with Bleacher Creature king Bald Vinny for a series of t-shirt giveaways this month. As you probably know, Bald Vinny leads the roll call from the right field bleachers every home game and sells his original t-shirts outside Yankee Stadium. His entire product line is available online at Section203.com.
Starting this Friday and continuing with each of the next three Fridays, we'll be giving away one of Bald Vinny's original Mo-themed shirts through a Twitter contest. It's very simple. All you have to do is follow both @RiverAveBlues and @BaldVinny on Twitter, then be the 42nd person to retweet the official giveaway tweet. There will be remainders galore before the actual giveaway goes live each Friday afternoon. You have to follow both RAB and Bald Vinny on Twitter to be eligible to win, no exceptions. People affiliated with RAB and Bald Vinny are not eligible to win and repeat winners are not allowed either.
We're giving away two different shirts as part of the giveaway: two G.O.A.T. shirts and two T-42 shirts in whatever size the winner needs. We'll start with the G.O.A.T. shirt this coming Friday and alternate each week. If you don't want to wait for the giveaways, you can head over to Bald Vinny's store and use the discount code RAB20 to receive 20% off your next purchase. Good luck.