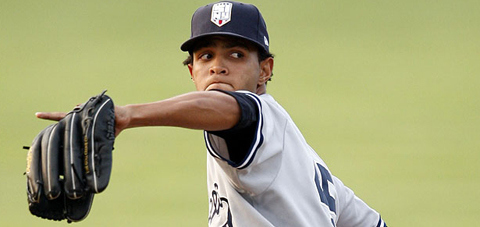 Got a quartet of minor league signings to pass along. None of these guys have a realistic chance of making the big league team anytime soon, so they're just depth guys to help fill out the affiliates' rosters. Everything comes from Matt Eddy…
RHP Kelvin Perez: The Yankees re-signed the 27-year-old right-hander, who posted a 1.14 ERA (3.26 FIP) in 74.1 relief innings for Double-A Trenton last season before making a brief late-season cameo with Triple-A Empire State. Walks have long been his bugaboo (career 3.9 BB/9 and 10.0 BB%). He has the best chance of eventually helping the big league club of anyone in this post.
LHP Josh Romanski: Like Perez, Romanski re-signed with the team after spending most of last season with Double-A Trenton. The 26-year-old managed a 4.97 ERA (3.75 FIP) in 29 innings across three starts and nine relief appearances. He missed a bunch of time due to injury.
RHP Chris Smith: The Yankees signed Smith, 24, out of the independent Frontier League. He pitched to a 2.92 ERA with 116 strikeouts and 50 walks in 129.1 innings across 19 starts with the Washington Wild Things last summer. Josh Norris spoke to a scout who said he's a command and control guy who lives in the high-80s.
SS Leugim Barrosco: Another indy baller, the 27-year-old Barrosco hit .317/.345/.364 with 14 steals in 91 games last season. They signed him away from the Rio Grande Valley White Wings of the North American League. Barrosco was born in Cuba and the most interesting thing about him is that his name is Miguel spelled backwards.