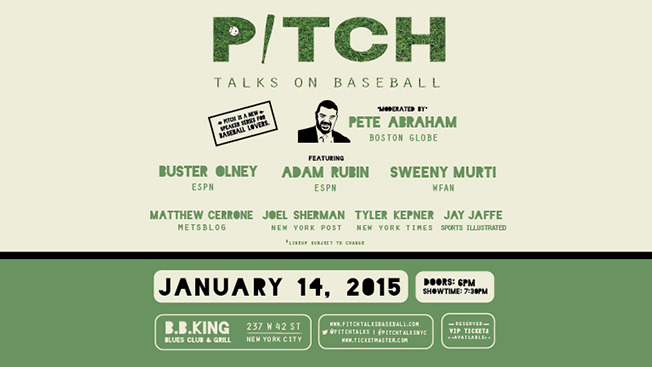 There are still plenty of interesting players on the market, but they'll soon find homes. By mid-January we'll be in the depths of the off-season, with transactions behind us and Spring Training still a month away.
To help baseball nuts stay sane during this trying period, the PITCH: Talks on Baseball series is holding an event at B.B. King Blues Club & Grill on January 14.
And RAB is giving away two pairs of tickets. to the event on January 14, 2015 Doors open at 6 p.m., and they kick off at 7:30.
Check out the event at the B.B. King Blues Clubs & Grill website.
The speakers
Pete Abraham, Boston Globe (Moderator)
Matthew Cerrone, Metsblog
Joel Sherman, New York Post
Tyler Kepner, New York Times
Jay Jaffe, Sports Illustrated
Adam Rubin, ESPN
Sweeny Murti, WFAN
Buster Olney, ESPN
How to enter: Just fill out the form below with your name and email address.
No Fields Found.
We will choose a winner on 12/30. Please, submit only once (it might appear as though your submission didn't go through, but once you hit submit trust us, it did).
The catch: In order to win, you have to be signed up for the RAB Daily Digest. We'll check the entrants list against the email list when we pick a winner on the 30th. And hey, the Daily Digest is good fun, too. Just take it from reader Benjamin:
"Great Daily Digest. I was hesitant signing up because I already visit the site several times a day, but this is top notch. Thanks!"
Sign up below so you're eligible to win one of the two pairs.